Get It Here!
Information
Try Averish, one of the most unique Flight Games, if you are a current customer.
M1A2 Abrams RC Battle Tank - Top Features
[caption id="attachment_274" align="alignleft" width="300" caption="M1A2 Abrams RC Tank"]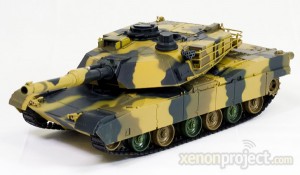 [/caption] In terms of military engineering, the M1A2 Abrams tank is the pinnacle of modern warfare technology. The real-life Abrams M1A2 got its name from General Creighton Abrams of the United States Army who was in command of military operations in Vietnam. It is a common tank used by armies under the flags of Australia, Saudi Arabia, Kuwait and Egypt. The original tank is highly mobile, heavily armored and well-armed. The plated armor uses sophisticated compound substances that make is sturdy enough to withstand heavy firing from the enemy. The replica is designed in a similar fashion to the real thing. Its performance capabilities and aesthetic looks were designed with a keen attention to detail. It can hold a maximum of 40 Airsoft BBs which can be fired by the turret as far as 25 meters. Because of its auto load system, the tank has the ability to fire continuously at the enemies while doing strategic maneuvers on its rubber composite caterpillar treads. These remarkable airsoft tanks looks impressive on the display shelf and even more so while on the battlefield. It can be a real destructive force that can bring down enemy tanks easily when controlled by an experienced commander. It comes complete with an infrared light signal, machine gun, toy military commander, military logos and detailed communication stations not to mention its' realistic camouflaged paint job. Another notable feature is the tank's fully functional motion. It can blast BBs at incredible distances. The turret has the ability to turn left and right or move up and down. The tank can also run forward or backward as well as turn left or right. Furthermore, the hatches can open and the tracks can roll freely. It moves like its real life counterpart. It also has the ability to run in muddy, sandy and snowy surfaces. It can also climb a maximum ramp angle of 35 degrees. This RC tank model is also equipped with the realistic sounds of a tank in motion. When the cannons are fired, the tank will respond by creating life-like explosion sound effects. The tank also recoils when the cannon is fired. You will see the signal light which serves as a sign that the cannon is being fired. It also has functioning head lights and tail lights. The dimensions of the Abrams RC battle tank are 13 x 6 x 4 inches. It has a three band frequency and is powered by a 9.6V 1000mah Ni-Cd battery that allows a run time of about 20 minutes for a single charge of two to three hours. It is controlled by a radio receiver with nine functions and it is ready to run straight out of the box. You have a long list of choices with an Abrams RC battle tank. You can either re-enact battle operations or engage in an all-out battle with friends. It also has the ability to run several tanks at the same time. This RC tank can be a real source of pride to anyone who has the luck to own one. Technorati: RMHE3NFP3926
Note: you do not need an account to place an order!